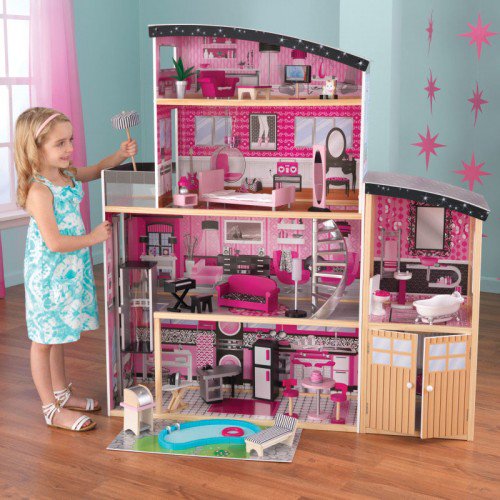 SPARKLE Mansion! A huge dollhouse made of wood, plastic and fabric in a modern design in shades of pink and black.
The house is built of four floors and six rooms, including a wide courtyard with a pool, a balcony and even a small warehouse on the side of the house. The house comes with a set of 30-piece accessories, a non-working kitchen, refrigerator, garden furniture, sofa, bed and more.
It is possible to bring a dollhouse up to a height of 30 cm.
Dimensions of the house 128.3 * 64.14 * 135.25 cm.
מיועד מגיל 3 ומעלה.
A huge dollhouse, made of wood, plastic fabric in a modern and luxurious design in bright pink shades.
The house consists of two parts, three floors and more than five different activity areas including a pool and yard and even a spectacular sun terrace on the roof of the house. The house includes an elevator and a set of accessories of 36 parts. Bed, sofas, garden furniture, tables and chairs, an organ that plays melodies. The light in the kitchen of the house comes on and when you flush the water down there are sounds. The batteries are included in the product.
You can put in a dollhouse up to a height of 30 cm.
Product dimensions 125.1 * 64.14.117.5 cm.
Designed for ages 3 and up.